Features of TextQuest/ReFo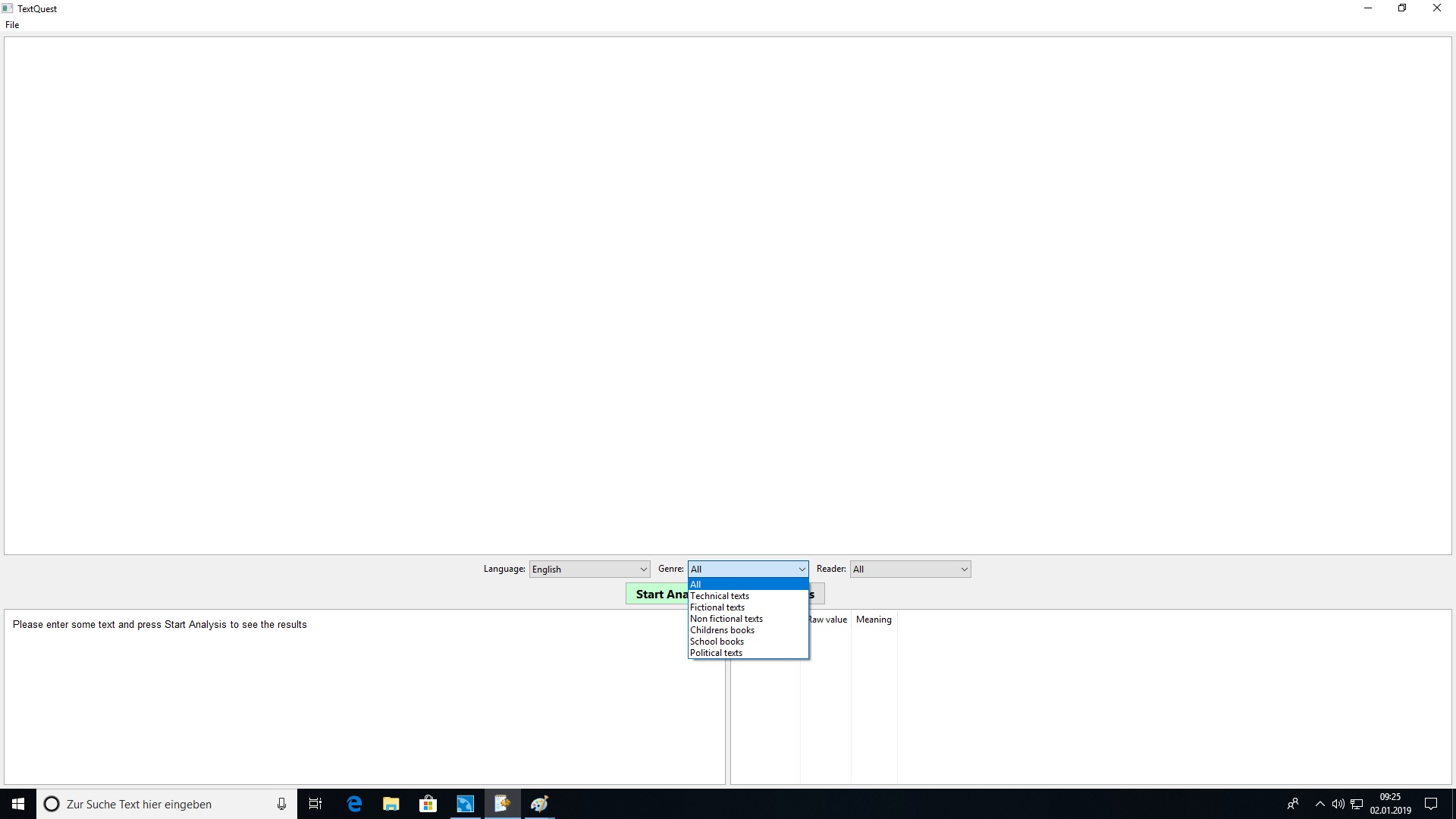 TextQuest/ReFo has features that other software/apps don't have:
supports many languages: English, French, Spanish, German, Dutch, Danish, Swedish, Polish, Turkish, Icelandic, Norwegian
selects the correct formula(s) according to language, reader, and text
text can be of any size because all formulas are standardized
abbrevation lists for each language enlighten the preparation of the text
based on readability formulas described in the original paper(s)
The user can select language, text genre, and reader: TextQuest/ReFo selects the appropriate formula(s), computes the results, and shows the interpretation. The results are dependent on the formula:
index value: it shows how difficult a text is, mostly values between 0 and 100. The higher the value is the more understandable the text is.
reader's age: the minimum age of a reader who understands the text.
reader's grade: the minimum grade of a reader who understands the text. The grade mostly relates to the school ssystem of the USA.
TextQuest/ReFo shows the results in a different window and provides information how to interpret the results.
The readability analysis in TextQuest is based on formulas. These are most based on the two variables that explain the most variance of reading behaviour (comprehension or speed): the sentence length and the word length.
Currently 68 formulas for 7 languages are implemented. The results of the formulas are:
index value: 0 (difficult) up to 100 (very easy)
reading grade: school class
reading age: in years
The following formulas are currently implemented:
Englisch: 31 formulas

ARI: Smith/Kincaid 1970 reading grade and reading age
CM1, CM2: Coleman 1965
CLF: Coleman-Liau 1975
DC: Dale-Chall 1948
NDC: New Dale-Chall: Powers u.a. 1958
DB1: Danielson/Bryan 1963
DB2: Danielson/Bryan 1963
EFLAW: McAlpine 1997
FK: Flesch-Kincaid 1953 reading grade and reading age
FOG: Gunning 1952
FC: Forcast 1973 reading grade and reading age
Fry 1968
LIX: Björnsson 1968
LW: Linsear Write
Reading Ease Index (REI): Flesch 1948
Modified Reading Ease Index (MREI): Powers 1958
New Reading Ease Index (NREI): Farr, Jenkins, Paterson 1951
Modified new reading ease index (MNREI): Powers 1958
PSK: Powers, Sumner, Kearl 1958 reading grade and reading age
RIX: Andersson 1983
SMOG: McLaughlin 1969 reading grade and reading age
SMOG2-G: McLaughlin 1969
Spache 1953 and 1978
WSI: Wheeler-Smith 1954

German: 21 formulas

Amstad 1978
Dickes-Steiwer 1977
Fucks 1955
Fasse dich kurz (Schirm 1972)
LIX for German prose and non-fictional text
RIX for German prose and non-fictional text
SMOG for German
Wheel-Smith-Index for German - Bamberger, Vanecek 1984
QU: Bamberger, Vanecek 1984
Tränkle, Bailer 1984
Tränkle, Bailer 1984
Text-Redundanz-Index Kuntzsch 1981
4 Vienna non-fiction formulas (Wiener Sachtextformeln) Bamberger, Vanecek 1984
3 Vienna fiction formulas (Wiener Literaturtextformeln) Bamberger, Vanecek 1984

Spanish

Childrens Spanish Reading Index Crawford 1984
Huerta 1959
Gutierrez 1972

Dutch, Afrikaans

Brouwer 1963
Dourma 1960
Staphorsius and Krom 1985

French: Kandel and Moles 1958 not implemented
Danish, Icelandic, Norwegian, Swedish, Dutch, German: LIX: Björnsson 1968, 1983
Italian: Vacca 1972, 1986, Gulpease
Polish
Turkish